Tote Bags – Made To Order
Some of my social media followers have seen this already but I'm still excited to share that I've started offering tote bags. Just as with prints and other wall art offerings, these are items that are made to order. That is these aren't sitting in a warehouse somewhere. They are only printed to fulfill a given order for them.
The fact that they are not pre-printed means that these tote bags can be customized to suit your wishes. For instance, maybe you want a name printed on the bag? Or maybe instead of the same image on both sides, you want different artwork on both sides? Just send a message with your details before you purchase your tote bag. Once we've ironed out the design, I'll send you a new link to order your custom bag from.
As with all things ordered online, the colors may not be spot on what you see on your screen. Partially that's down to screen calibration. My displays are calibrated and my wall art matches what I expect but your screen may be a little warmer, a little colder in hue, brighter, darker, etc. Then you throw in the differences of printing on fabric. It's nothing like printing on bright white paper or canvas. In my experience with printing on fabric, lighter colors and especially whites are going to be a little different to what you see on the screen but still eye-pleasing.
As a for-instance I ordered one of my own lighthouse tote bags as a gift for my mom. This is what the preview looks like in my shop.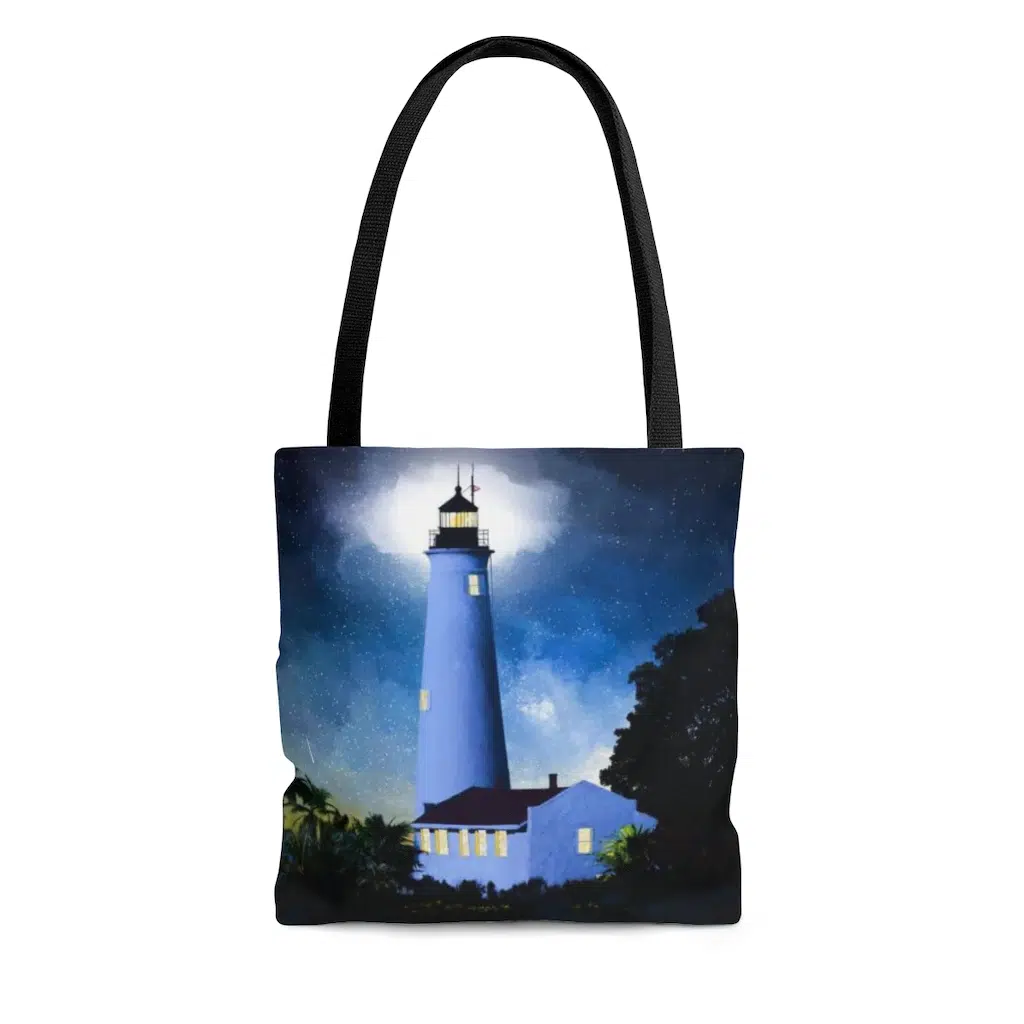 And this is what it looks like in person, more or less. I say more or less because I'm not a professional product photographer. I tried outside in the sun first so that my light would be daylight white but it was way too bright. I ultimately settled on taking photos inside but the light is a bit warmer so this is close but not quite what I see in person but I think it gives you an excellent feel for what the tote bags look like when printed.
As I said this photo is a little warmer due to the lighting in my home but not far off. And my Mom kept talking about how much she liked the colors and I'm happy to add she recognized her favorite lighthouse the moment she saw it. Still color reproduction on paper and fabric are two different things so please expect some variation to what you see on your phone, tablet, or computer screen. In fact odds are you'll see some variation between the same image on all those devices!
You can see the tote bags I've already made available in my shop here:
I hope to add more products in the near future. My favorite way to see my art printed will always be wall art as it most closely fits my original vision. That being said, I love the idea of having more options since we don't all have a ton of wall space waiting for art. In fact that was what motivated me to try out these totes. My mom is currently in a nursing home and some family pictures pretty much used up her limited wall space. A tote bag was a pretty but practical way for me to give her a piece of my artwork featuring her favorite lighthouse.
So what's your favorite bag of the ones I'm offering so far? Of my artwork, what are you hoping to see on a bag? Please feel free to add your thoughts in the comments or send a message if you'd rather chat one on one.