It's been bubbling in the back of my mind for awhile now to re-do my website.  It was, to put it kindly, a Frankenstein behind the scenes.  I'd like to think that from the outside looking in, it was rather coherent, but in truth it was a mixture of hand-coded pages, a WordPress blog, and a gallery2 photo album.  These all had their fine points, but getting a coherent "skin" around them was a challenge.  I had improved it over time, learning some PHP coding so that the parts of the site that were uniform weren't re-coded over and over.  I won't tell you what a nightmare updating the menu was before that!  Oh wait, I just did!  So, cutting out some of the techie talk, I learned some PHP and CSS along the way and there's nothing bad about that.
But I wanted a website that I could update easily and change the look of but wouldn't spend weeks on it every time.  I'd rather be taking/editing pictures!  I knew that of the tools I'd used, WordPress was the one I liked best.  It's pretty easy to make site-wide changes and kind of like the iPhone's Apps, if there's something  you want to do on WordPress, there's likely a plug-in for that!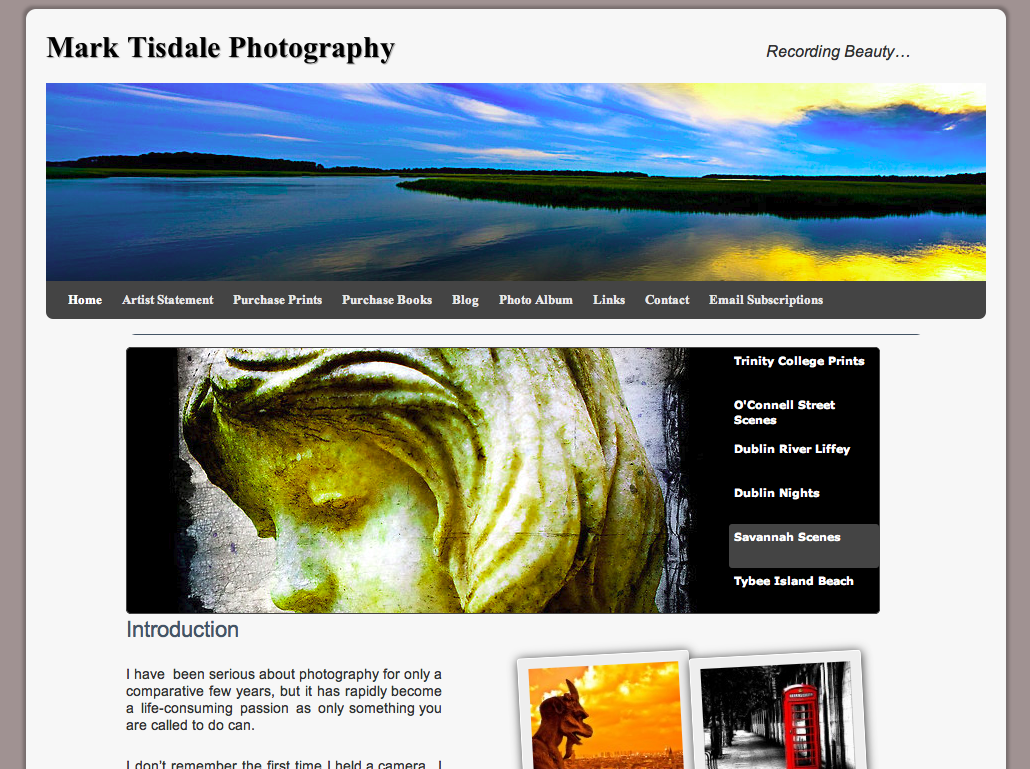 And thus we arrive at the new site, it was about a week of off-and-on editing, all done behind the scenes until the last day when I put the new site out there.  Anyone visiting that day, well, I apologize.  There were lots of bugs to iron out once it got there but things seem smooth now (fingers crossed!).
The full-on gallery is gone now.  It was redundant as until recently I'd posted pretty much the same work on my flickr account.  And since it is sort of a raw-feed if you will, work that's just had a rough edit and some honestly little more than snapshots, it didn't seem like it needed to be replicated over and over.  So, now, everything will go to flickr and be mirrored here for those who'd like an all in one destination to check out what's new with my work.  And things that are print worthy, will obviously go on to my prints gallery.
Speaking of new, I've finished the round one edit of my Paris photos.  I will post some blog posts later with some featured shots and my thoughts about the places, etc., but for the impatient amongst you, please feel free to check out my Paris photos.  I know it's no secret from long time readers that Paris did not grab me the way some other cities have. Having had my first wander through the photos from those five nights, though, I have to admit that it's probably among the most picturesque cities I've visited.  I was overwhelmed by how many keepers I felt I had amongst my photos from such a short time.  It was, as if, I'd found a place that, like some people, seemed incapable of taking a bad photo.  Welcome your thoughts on the photos posted for you early explorers!
I'd appreciate any feedback on the new site.  I hope in addition to my ease of use, the new design focuses attention more on my photography and will make it easier for people to explore what I'm doing here.
One last favor, for those who receive my updates via e-mail, please let me know that this came through.  I had to do some database surgery to pull my subscription list over from the old site.  Everything appears okay, but only the first post will actually confirm that.  So, testing, testing, 1, 2, 3!